JOURNALIST Maxine Mawhinney left the BBC this week after 21 years – much of it as the anchor presenter of the flagship daytime news service. She returned home to visit family and friends before embarking upon a new career as a freelance but took time to speak to Donaghadee RNLI's press officer Maurice Neill about her love for the town and respect for its lifeboat volunteers.
She is a follower of Donaghadee RNLI on social media and regularly retweets news about the station to thousands of followers across the UK.
She said, "I now live in London and the first thing I always remark upon when I come home is the clear, clean air and the sea. Also the peace and quiet. There is a real community feel in Donaghadee, people are warm and friendly and look out for each other. Mum Marie and I always do a tour of the Dee, calling into the shops and coffee shops. The Lifeboat is very much at the heart of Donaghadee and its from living there that I am aware of the RNLI. The lifeboat crews are unsung heroes."
She started her career in Bangor at Spectator Newspapers and has covered many memorable moments in history.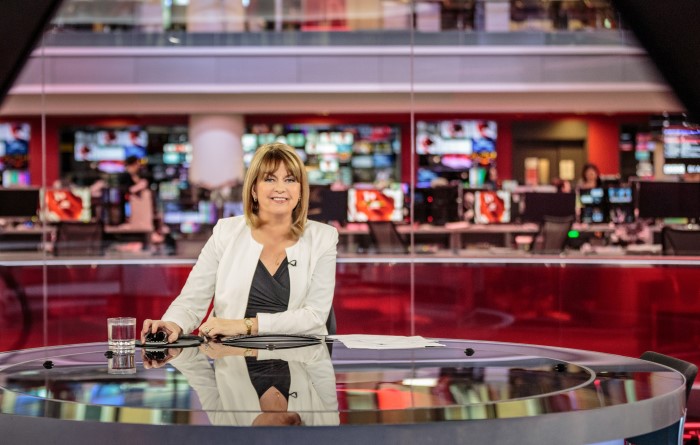 "Its hard to pick one – the night of the death of Princess Diana would be one – I single handedly presented BBC World News throughout the night as the story unfolded. Covering the aftermath of the Oklahoma bomb and the siege in Waco Texas were both heartbreaking as children died and as a mother I found those images particularly distressing. However when you are covering a story you put your emotions to one side. The reporter is the person inbetween the story and the reader/viewer/listener and the job is to report the facts."
She has met many public figures but is not impressed by powerful people.
"it is very easy to be impressed by world leaders, Bill Clinton for instance is very charismatic, but the most impressive of all are ordinary people doing extraordinary things for their community – giving of themselves to make it better for others."
She hopes to make programmes about social and health issues and programmes that inform.
"Something that has wide appeal. My favourite thing is interviewing – I absolutely love talking to people and hearing their story. A little know fact is my love of robots and artificial intelligence. I'm not a techie, it's more the fascination with how they can be used in helping people.I would love to make programmes in Northern Ireland and about Northern Ireland and its people. So if anyone fancies doing one I'm up for presenting it."